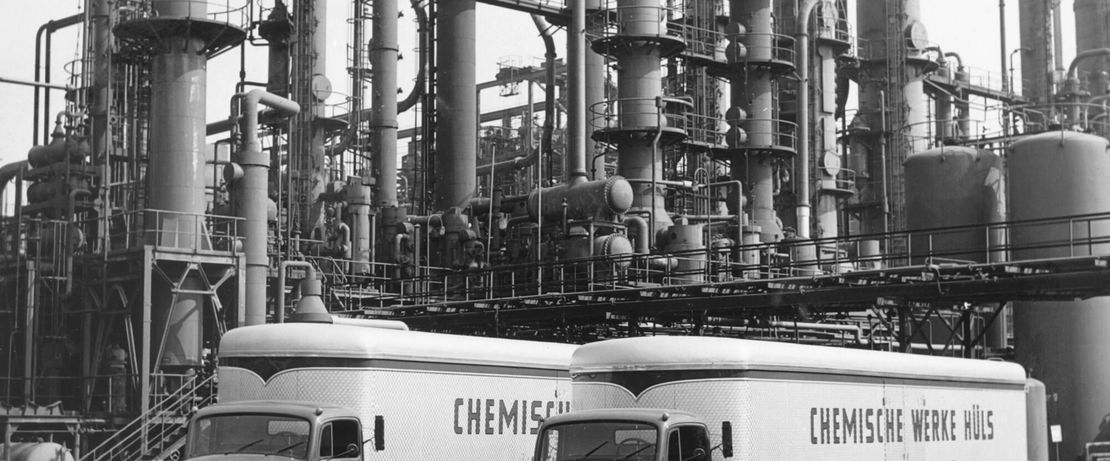 History
Because the future depends on the past 
The history of the Marl Chemical Park began May 9, 1938, as part of the four-year plan issued by the government of the German Reich. On this date, IG Farbenindustrie AG and Hibernia AG (a mining company) became part owners of the newly founded Chemische Werke Hüls GmbH. The Marl site was to produce Buna, a synthetic rubber that served as a basic raw material used in tire production.
The first shipments of Buna left the plant August 29, 1940. Heavy Allied air raids beginning in 1943 brought virtually all production to a standstill.
Following industrial dismantling and bans on production, the plant began to develop during the post-war "Economic Miracle," generating new product lines and becoming a company of global importance—managed by VEBA AG beginning in 1979. Starting in 1985, the company, which was now incorporated under the name Hüls AG, began to transition from heavy industry and basic chemicals toward an emphasis on specialty chemicals. Following reorganization to become a strategic chemicals holding company, Hüls AG and Degussa AG merged in 1999 to form Degussa-Hüls AG.
In early 2001, Degussa-Hüls AG and SKW Trostberg AG merged to form the new Degussa AG—the third-largest chemical group in Germany. In February 2003, RAG AG of Essen increased its holdings to a 50.1 percent share of Degussa, acquiring all of Degussa's shares in May 2006. The company's German coal mining business have retained the name RAG to this day, while the company's chemistry, energy, and real estate businesses were united in September 2007 as the new Evonik Industries Group. In 2009, Evonik completed its change of course, and is now positioned exclusively as a specialty chemicals company.
As a result of this new direction and of internal restructuring, what had once been a one-company site has since developed into the Marl Chemical Park. In addition to Evonik, today's site is also home to Evonik subsidiaries and affiliates, and to 17 other companies.